Everything starts small.
So did we…
It was a little store in Peristeri which marked our own start, back in 1991. In that small store, we started our exciting journey in lighting, originally by trading lamps and electrical equipment.
Every start is difficult. But we could never imagine a more promising start…
1991 Our journey starts by trading lamps and electrical equipment in a small shop in Peristeri (Attica)
1992 Setup of BEL Lighting in Belgium
1993 Creation of our own production facilities in Kallithea
That was only the start…
BEL Lighting started developing its exports in Europe and became the growth lever of our lighting business; not surprisingly, a few years later (1996), it launched its first product series wholly manufactured by our own factory in Greece.
A thrilling journey in the lighting business had just started followed by a long period of continuous investments.
1994 Development of exports in European markets
1996 Launch of our first product series under the brand 'BEL Lighting'
The relocation of our production to a larger space
in Renti and the purchase of our first CNC machine tool, were necessary in order to meet the growing demand for our products and acquire the capacity to process and machine materials for exterior lighting.
In Belgium, we constructed our own buildings of 1,200m2 in Tubize, which were designed and allowed for the highest efficiency of our logistics, sales and management operations.
And in 2008, we built our own factory in Megara in a total space of 3,000m2 which, until today, has been covering our growing needs of production, assembling and warehousing.
1999 Relocation of our production facilities in larger spaces of 950m2 in Renti
2000 Purchase of our first high-tech CNC machine tool for the manufacturing of exterior lighting
2004 Construction of our own facilities in Belgium to accommodate our logistics, sales and management operations for the European markets
2008 Construction of our own factory of 3,000m2 in Megara to accommodate our growing CNC machine shop, assembling and warehousing needs
In 2009, we set up TEFEL company
in Megara to be close and provide top services to our partners, clients and end users in Greece and Cyprus.
Continuous investments upgrade the quality of our products and services and the international markets show us the way to growing further…
Today, 80% of our total sales come from exports.
But we never forget where we started from.
Close to our first clients and partners in Greece, TEFEL is here to strengthen our local presence and provide unparalleled services and support to all valuable clients and partners in Greece and Cyprus.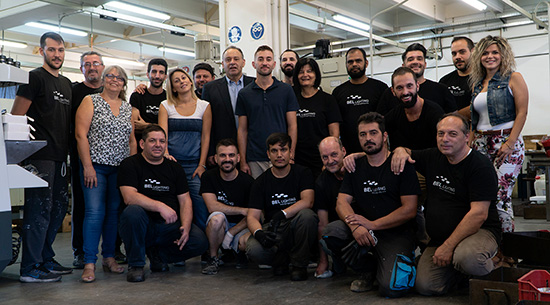 2009 Setup of TEFEL in Greece to serve the needs of Greek and Cypriot markets
2013 Official cooperation with the National Technical University of Athens for the photometry of all our products
2016 Launch of our new product series for underwater use
2019 Our exports reach 80% of total sales…
BEL LIGHTING. TEFEL.
TWO BRANDS.
ONE STORY.
BEL LIGHTING. TEFEL.
A GLOBAL BUSINESS
WITH LOCAL PRESENCE.
TEFEL is a design and manufacturing center at the service of lighting designers, architectures, engineers and contractors. All our products are designed in Belgium to follow the latest global trends in lighting design. We manufacture exclusively in Greece to keep full control of our highest quality standards and provide the best support to all local clients and partners.
FRANCE
BELGIUM
UAE
KUWAIT
GERMANY
NETHERLANDS
NORWAY
SWEDEN
DENMARK
LUXEMBURG
SPAIN
GREECE
RUSSIA
ITALY
PHILLIPPINES
HONG KONG
SINGAPORE
THAILAND
VIETNAM
UK
SWITZERLAND
PORTUGAL
USA
CZECH REPUBLIC
BRASIL
IRELAND
INDONESIA
NEW ZEALAND
AUSTRALIA
CYPRUS
FINLAND
ESTONIA
LATVIA
LITHUANIA
UKRAINE
POLAND
SLOVAKIA
SLOVENIA
HUNGARY
AUSTRIA
ROMANIA
BULGARIA
SERBIA
N. MACEDONIA
ALBANIA
CROATIA
TURKEY
IRAN
SYRIA
AZERBAIJAN
EGYPT
MOROCCO
TUNISIA
LEBANON
SINGAPORE
THAILAND
MALAYSIA
VIETNAM
PHILIPPINES
CANADA